Tipton Lions Upcoming Meetings
Through the winter we had been meeting at a local church because Lions Club House was closed for the Winter. The Club House is now open again for the Season. The Club House is located on the grounds of the Cedar County Fair.
.
We have moved to the UCC Church as of November .

December at 6:30 pm we will have our annual Christmas Party. This will be held at ST. MARY'S HALL. We will have entertainment .The meat, potatoes, dressing, gravy and drinks will be furnished. PLEASE bring a covered dish and your own table service. This is a family function, so bring your kids and grandkids.



Tipton Lions Club Members 2019-2020
Tipton Lions Club Members RON AHRENS, JOHN ALBAUGH, RANDY AMOSSON, JUDY ARCHER, LEE BEINE, STERLING BENZ, FRITZ BOHDE, MICHAEL BOYLE, KRIS CLARK, KENNETH CROCK, RONNIE CROWLEY, DEAN DOERSCHER, DON DRAGER, WILLIAM DRISCOLL, DENISE DYKSTRA, DENNIS DYKSTRA, LINDA DYKSTRA, JERRY ELIJAH, GLENN FEAR, DENISE FELTES, DAVID FRY, LYNDA HANSEN, RON HILLS, DUSTIN HINRICHS, LARRY HODGDEN, RALDO HORMAN, GARY JEDLICKA, JIM JORGENSEN, JUDY KAESER, CHRIS KELLER, EDWARD J. KETELSEN, MARGARET KETELSEN, FLOYD LENKER, COLLEEN LENKER, DON MCGLAUGHLIN, TODD MILLER, KEN MULLER, ELSIE PAYTON, BECKY PIERCE, JEFFREY RENANDER, TAMRA ROBERTS, DAVID SWAN, ROBERT THYS, GLENDA THYS, RICHARD TIMM, LAURA TWING, KORY WEHMEYER, RODNE WENDT, TERESA WENDT, ALICE WHITLATCH, KEITH WHITLATCH, ALVIN WRIGHT. RON CHALLIS, JORDAN CHALLIS, JESSICA CHALLIS, CHARLINE THUMM, JUDY JENKINS, CALLIE VALLET, BOBBY KAUFMANN, STEPHANIE WAGNER, STEPHEN AND KELLY PUBINSKI, LINDA BOOTS RENEE AND BRIAN DINGES JEFF AND BRENDA HOLTZ, ANDREA WULF, CYNTHIA RYSSEMUS, LINDA BOOTS, NANCY DEMMELCARL AND PAM FISHER, MERLIN HULSE, DAVID LESHTZ,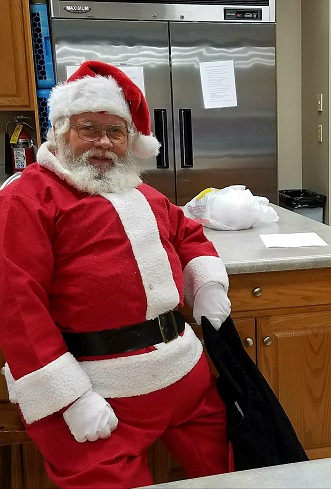 Social Activities at Club Meetings
Several of our Evening Club Meetings provide family inclusion for celebration of special events. They include:
February - Sweetheart's night
June - Installation of Officers
August - Summer Family Picnic
December - Family Potluck Christmas Party
PHOTO of Santa is taking a break after spending a FUN time with all the children.
December - Tour of Lights AND Community Soup Supper

Eye Glasses Collection
Alice Whitlatch advised that she has been able to collect
several eye glasses from the following sites:
Family Foods, US Bank, Tipton Pharmacy, Vision Center and United Methodist Church.
Alice is the chair for this activity. Questions?? call Secretary Judy at 886-6903.


C

Kidsight Testing
Tipton Lions Club does KidSight testing for this community. The KidSight committee consists of Denny and Linda Dykstra, Mike Boyle, Laura Twing, Lynda Hanson, Orville Randolph and Chairperson Judy Archer. Every month two members of this group attend the Cedar County WIC program to screen kids that have not been screened before. This service is free to all children. The ages that we can screen are 6 months to Preschool age. We use a digital camera that has been purchased by the West Branch Lions Club and the Tipton Lions Club. The cost of these cameras are around $6,000. When school starts, at the beginning of the new school year, we screen all the preschoolers, head start students, Bennett preschoolers, Tipton preschoolers and day care students. By doing this every year, we have alerted many parents to have their child's eyes checked by a vision professional. After we get done with the screening of a particular group, we send the results via computer to the KidSight Screening Center for the Lions at Coralville. They have trained professionals that check the results. If they feel there is a problem, they in-turn send it to the Univ. of Iowa Hospital. The parents are then notified via mail as to this report.
This is a very worthwhile project that the Lions across the continent are involved in.
If you would like to help with this project, please contact a Tipton Lion member.


Scholarship to High School Graduating Senior
Lion Glenn Fear is in charge of the Scholarship Progam

Pass the Buckets in Collection for the Fourth of July Fireworks
Lion Alice Whitlatch is the Chair person for this event. Tipton Lions club collect monies from the audience that attend the fireworks for the Fourth of July.
This money is then given to our Treasurer, Lion Jim Jorgensen. He presents this donation to the Tipton Fire Dept who in-turn puchases fireworks for the next year.

BackPack Buddy Program
Lion Alice Whitlatch is the Chairperson for this School event The Tipton Lions help with this project one month out of the school year.
This project donates food towards the students of Bennett and Tipton Schools that are in need of this service for the weekends.
The food is placed into boxes at the Lutheran Church in Tipton, then taken to the two schools where it then placed into back packs. These packs are given to individual students on Friday when they go home and returned Monday when they come back to school.
This is done every week during the duration of the school year.
This is all done by donations to this wonderful project.

Shared Blessings Meals
Lion Margaret Ketelsen is the Chair person for this event. This is held at the Tipton Methodist Church.

The Shared Blessing meals are prepared and offered to individuals for free. Whether they attend the meal or have it delivered to them.



AWARDS ---- AWARDS ----- AWARDS
Tipton Lions Club proudly presents the following awards to their members that have gone above and beyond the Lion's motto: 'WE SERVE"
These club awards are: Lion of the Year; Leader of the Year; Warren Coleman and Melvin Jones Awards.

These recipients of these awards are voted on by their fellow Lions.

2019 RECIPENT TO THE LIONS OF THE YEAR FOR DISTRICT 9EC IS LION ALVIN WRIGHT....

Centennial Legacy Project
The Tipton High School Band Department was awarded the Tipton Lions Club Legacy Project Award for 2017. The specific project was a donation toward their fund raising for new band uniforms. The Centennial Committee consisted of Glenn Fear, Mike Boyle and Laura Twing Chair. President Judy Kaeser is shown presenting the check and certificate to Andy Owens, Music Director of Tipton High School.

Warren Coleman Awards for 2017
At the June meeting, District Governor Robert Rhinehart presented Warren Coleman Awards to Linda Dykstra, David Swan and Glenn Fear.

An additional Warren Coleman was presented to Marlene Johnson, who was not in attendance in June, but presented to her at a later date.

Warren Coleman Award for 2017
Anita Northrup is being presented a Warren Coleman Award by Dean Doerscher. An additional Warren Coleman Award for 2017 was allowed because of the successful Verdi Golf Tournament coordinated by Dean.

Melvin Jones Awards
District Governor Robert Rhinehart made a presentation at the June Meeting, honoring Robert Whitlatch and Laura Twing with the Melvin Jones Awards.

GE
Past State Administrator Gary Fry presented Dennis Dykstra with the prestigious State-wide GE "Bud" Klise Leadership Award.

55 YEAR AWARD
The 55 Year Award was presented to Lion Glenn Fear by First Vice District Governor Tony Hill at the November 15, 2018.
Lion Glenn has been an asset to the Tipton lions Club, for years.

Leader of the Year
Cabinet Treasurer Loren Claussen presented Dean Doerhscher with "Leader of the Year" a statewide honor, which was initially presented at a District Meeting.