2018-2019 TIPTON LIONS CLUB OFFICERS
PRESIDENT ------------------KEITH L. WHITLATCH
FIRST VICE PRESIDENT --------DAVID SWAN
SECOND VICE PRESIDENT -------MARGARET KETELSEN
THIRD VICE PRESIDENT --------RON HILLS
TREASURER -------------------JAMES JORGENSEN
SECRETARY -------------------JUDY ARCHER
MEMBERSHIP CHAIRMAN ---------GLENN FEAR
ONE YEAR BOARD MEMBER -------wILLIAM DRISCOLL
ONE YEAR BOARD MEMBER -------DENNY DYKSTRA
TWO YEAR BOARD MEMBER -------MICHAEL BOYLE
TWO YEAR BOARD MEMBER -------RON HILLS
LION TAMER ------------------ALICE WHITLATCH
TAIL TWISTER ----------------LAURA TWING

WebMaster -------------------JUDY KAESER


Tipton Lions Club Members 2019-2020
Tipton Lions Club Members
RON AHRENS, JOHN ALBAUGH, RANDY AMOSSON, JUDY ARCHER, LEE BEINE, STERLING BENZ, , FRITZ BOHDE, MICHAEL BOYLE, KRIS CLARK, KENNETH CROCK, RONNIE CROWLEY, DEAN DOERSCHER, DON DRAGER, WILLIAM DRISCOLL, DENISE DYKSTRA, DENNIS DYKSTRA, LINDA DYKSTRA, JERRY ELIJAH, , GLENN FEAR, DENISE FELTES, DAVID FRY, LYNDA HANSEN, RON HILLS, DUSTIN HINRICHS, RALDO HORMAN, GARY JEDLICKA, JIM JORGENSEN, JUDY KAESER, CHRIS KELLER, EDWARD J. KETELSEN, MARGARET KETELSEN, MARK KRUSE, FLOYD LENKER, COLLEEN LENKER, DON MCGLAUGHLIN, TODD MILLER, KEN MULLER, ELSIE PAYTON, BECKY PIERCE, JEFFREY RENANDER, TAMRA ROBERTS, DAVID SWAN, FLOYD TABER, TERRY TESAR, ROBERT THYS, GLENDA THYS, RICHARD TIMM, LAURA TWING, KORY WEHMEYER, RODNE WENDT, TERESA WENDT, ALICE WHITLATCH, KEITH WHITLATCH, ALVIN WRIGHT. RON CHALLIS, JORDAN CHALLIS, JESSICA CHALLIS, RENEE AND WILLIAM MOOMEY, CHARLENE THUMM, JUDY JENKINS, CALLIE VALLET, BOBBY KAUFMANN, LARRY HODGDEN, JEFF HOLTZ, BRENDA HOLTZ, ANDREA WULF, RENEE AND BRIAN DINGES


Cedar County Fair Food Stand
During every day of the Cedar County Fair, we serve fresh hot food and cold drinks in our AIR CONDITIONED building. Both lunch and supper are served.
Come and try our popular Lion Burgers and homemade pies.

Dates for 2018 are: July 11-15. HOPE TO SEE YOU THERE!!!


Flags Over Tipton
Five times a year the Lions put up American Flags all throughout our City of Tipton.
If you are interested in having a flag flown in your yard, please contact a Lions member or Treasurer Jim Jorgensen or Secretary Judy Archer at 886-6903. This provides a great opportunity to honor or memorialize a loved one by placement of a flag in their honor.
Those dates are:
Memorial Day
Flag Day
Independence Day
Labor Day
Veterans Day

.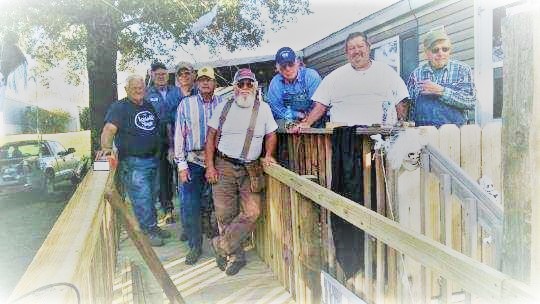 Lions Ramp Project
Lions Ramp Project
Lion Keith Whitlatch is the Chair of the Ramp Project.
If you know of someone who would benefit from a ramp being constructed on their home entry, please contact Lion Keith. His phone number is 319-329-1785.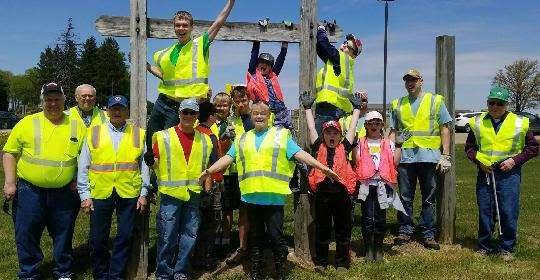 Roadside CleanUp -
Twice a Year the Tipton Lions Club recruits the Boy Scouts and other volunteers to do roadside cleanup on our portion of Highway 38. When the afternoon cleanup is completed, pizza is usually provided to the great volunteers for a "job well done."

The Spring and Fall will find the Club Members and other volunteers meeting at 1 pm at the North End of the WalMart parking lot. Don McLaughlin is chair of this project and will be glad to accept your volunteering on this project. Secretary Judy Archer can provide more information at 886-6903





Blood Drive
A Blood Drive is coordinated in the Spring with Mississippi Valley Blood Center. This blood drive is held once a year, usually in April. Laura Twing is Chair and can provide more information as well as signup to donate or help.

Club secretary Judy Archer at 886-6903 can also provide more information.


Parking Cars at Home Highschool Football Games
Our Parking Cars crew assist all attendees of home football games the ease of finding a parking space for best efficiency of the grounds. We assist the highschool additionally for special athletic events with high out of town visitor numbers to assist with parking.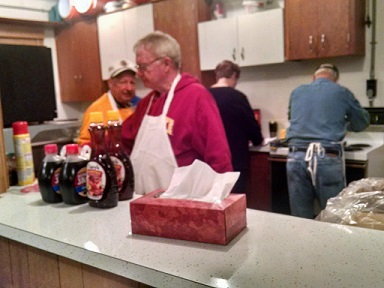 Hunter's Breakfast
The last Saturday in October is the Hunter's Breakfast at the Lions Clubhouse at the Cedar County Fair Grounds. This is a wonderful breakfast with everything you can imagine served and cooked by the member's of Tipton Lions Club. Tickets are available from all members or specifically from Secretary Judy Archer.


Christmas Tree Sales 2018
Around Thanksgiving our shipment of Christmas Trees arrive which will be sold from the grounds of the Cedar County Courthouse. Sales will continue through December 20th or until all trees are sold. These are beautiful trees coming from Wisconsin and our local tree farm - Kelly's Tree Farm.
.


Tour of Christmas Lights
Again this year, for the Festival of Trees, Lion Keith Whitlatch will be pulling the Trolley with his team of horses picking up festival attendees for viewing of the community lights and transporting to the soup supper as well as downtown.
THE TOUR OF LIGHTS ALONG WITH THE COMMUNITY SOUP SUPPER, WILL BE DECEMBER 8TH, 2018


TIPTON LIONS CLUB SOUP SUPPER
THIS EVENT WILL BE HELD DECEMBER 8TH, 2018 AT ST. MARY'S HALL. THIS IS IN CONJUNCTION WITH THE TOUR OF LIGHTS.
WE WILL BE SERVING CHILI, CHICKEN AND NOODLE AND POTATOE SOUPS, GRILLED CHEESE AND PULLED PORK SANDWICHES, WE WILL HAVE A LARGE VARITY OF DESSERTS. COST OF THIS EVENT IS $7.00 FOR AN ADULT; $5.00 KIDS 5 - 12 YEARS OF AGE; UNDER 5 YEARS KIDS ARE FREE.
ALSO AT THE SOUP SUPPER THERE WILL BE MANY VENDORS SELLING THEIR HOMEMADE CRAFT PRODUCTS.