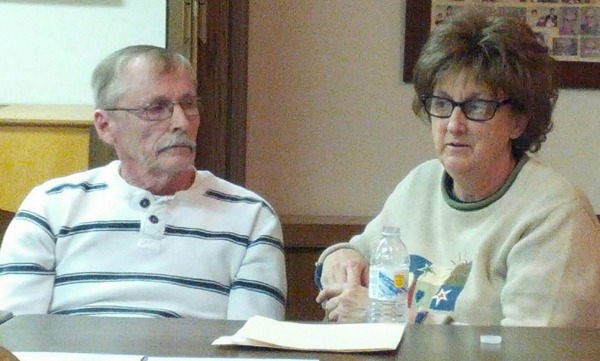 ANDERSONS TELL US ABOUT BREWED AWAKENING CAFE

At a recent meeting, the Andersons of Brewed Awakening Cafe told us how they started their business. We could tell they really enjoy what they are doing. A relaxed and fun couple, their eyes sparkled when they talked about the people who come into their shop. They have a menu for both breakfast and lunch. Stop in Tues - Sat 6:30-2:00.





MITCHELLVILLE LIONS HELP SANTA WRAP PRESENTS

Several of us helped Santa wrap presents at Mitchellville Elementary School. Each child received a present selected by Santa just for them. About 150 presents were wrapped over a two-day period.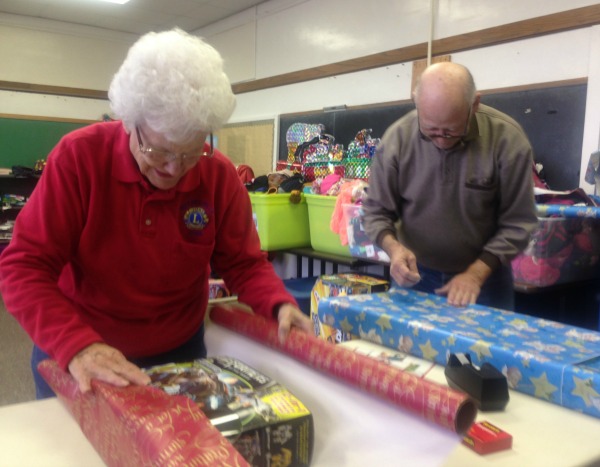 Lions Jim Appleget and Sharon Kooyman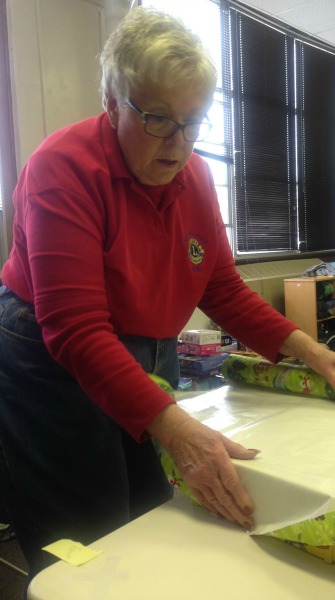 Lion Maggie Stout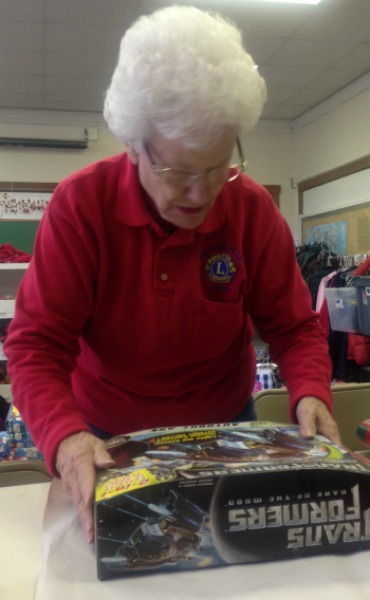 Lion Sharon wraps a polular gift - Transformers


YARD OF THE MONTH 2013
The Mitchellville Lions Club again presented the Yard of the Month Program for 2013. A Yard of the Month was chosen for the months of June, July, August, and September. All residents of Mitchellville were invited to nominate a residence, business, or service organization yard that Make Mitchellville Shine.

.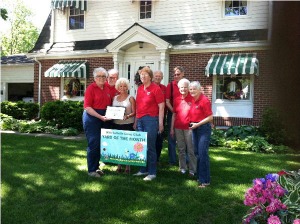 DON & JUDY BARRER JUNE YARD OF THE MONTH
Don & Judy Barrer's home at 201 4th St NE was selected for the Mitchellville Lions Club June Yard of the Month. On June 3rd, several of the Club members met at the Barrers and presented Judy with a certificate and the Yard of the Month sign which will be in their yard for the month of June. The Barrers have a beautiful yard which is colorful and calming. Be sure to drive by and see their lovely property.

Presenting the certificate and yard sign to Judy Barrer are:
Front Row, Left to Right are President Maggie Stout, Judy Barrer, Mary Halstead, Sharon Kooyman, and Judy Johnson.
Rear Row, Left to Right are Ned Stout, James Appleget, and Bruce Hayden.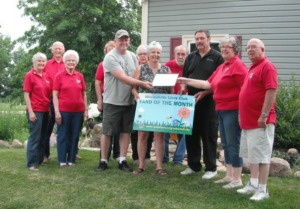 GARY & DOT SNYDER JULY MITCHELLVILLE LIONS CLUB YARD OF THE MONTH
Gary & Dot Synder's home at 200 Walnut Ave NW was selected for the Mitchellville Lions Club July Yard of the Month. You can tell that the Snyders spend time making their yard delightful and inviting.

Presenting the Yard of the Month certificate signed by the club President, Hazel Fricke, and the Mayor, Bill Roberts, are:

Front Row: Judy Johnson, Sharon Kooyman, Gary Synder, Dot Snyder, Mayor Bill Roberts, President Hazel Fricke, Fred Fricker.

Back Row: Jim Appleget, Mary Halstead (barely visible), Past-Predident Maggie Stout, and Ned Stout.

The Mitchellville Lions are wearing their distinctive red shirts.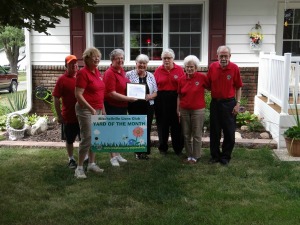 AUGUST YARD OF THE MONTH BARBARA HOOVER
Members present the award for the Mitchellville Lions Club Yard of the Month for August to Barbara Hoover of 3rd St NE. Left to Right presenting the certificate to Barbara are Fred Fricke, Mary Halsted, Club President Hazel Fricke, Barbara Hoover, Maggie Stout, Sharon Kooyman, and Ned Stout.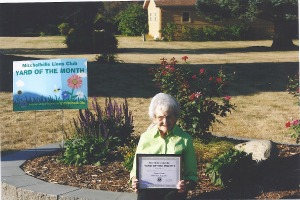 SEPTEMBER 2013 YARD OF THE MONTH AWARDED TO NORMA SKINNER
Presenting Norma Skinner with the September Yard of the Month Certificate and yard sign are left to right:
Front Row: Fred Fricke, Norma Skinner, Club President Hazel Fricke, and Mayor Bill Roberts.
Middle Row: Ned Stout, Jim Appleget, Sharon Kooyman, Joann Fry
Back Row: Mary Halstead, Maggie Stout, Bruce Hayden, and Gary Fry,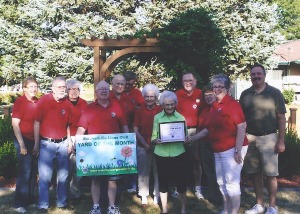 .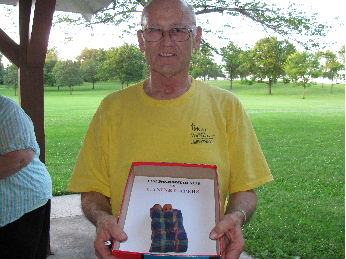 2013 ANNUAL DOG SHOW
We always have a lot of fun at the annual dog show at Thomas Mitchell Park. Everyone brough a potluck dish to share. The "show" was hosted by Lion Jim Appleget. Dogs are not a requirement to attend! Be sure to click on News & Events at the left side of the screen to see previous Dog Shows.

Here is Jim with one of last years non-real dog entries.