Sheffield Lions Christmas Party - Dec. 7, 2012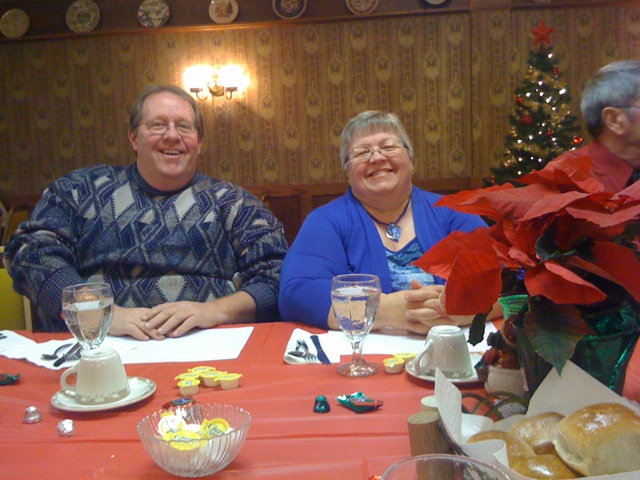 Leader Dog - Solomon (Named after Lion Gary Schriver's 2nd Leader Dog - Solomon) and Randy Cook become 14,000 Team to be assigned by Leader Dogs for the Blind.

The Leader Dog - Solomon (shown in picture on the left) was named after Lion Gary Schriver's, of the Sheffield Lions Club, 2nd Leader Dog - Solomon and was raised by Leader Dog Puppy Raiser--Lion Hava Hegenbarth from the Mason City Evening Lions Club. Congratulations to both Randy and Solomon for being the 14,000 Leader Dog Team to come from the Leader Dogs for the Blind in Rochester, MI -- supported by and begun by Lions members.

When Randy Cook traveled to Michigan recently to receive his third Leader Dog, a black lab named Solomon, he had two surprises waiting for him: a Breeze GPS unit and the distinction of being the 14,000th graduate.

After more than 20 years of having a Leader Dog by his side, Randy was excited to receive the Breeze, a hand-held GPS unit that enhances dog guide travel. "I love it," Randy said. "It's easy to use. Technology has changed a lot of lives and really helped people with disabilities." He expects the Breeze will be especially helpful to him in his work as a rehabilitation teacher for the Illinois Department of Human Services. His job requires him to travel to the homes of his blind students, where he teaches them independent living skills.

Randy received his first Leader Dog in 1989, a black lab named Shadow. Young and skeptical, and already very comfortable with his cane skills, he wasn't sure what having a dog could add to his life. Then the day came when a semi-truck was bearing down on him and Shadow instinctively jumped in front of him, knocking him to the ground and out of harm's way. "That made me a believer," he laughed.

Randy recently had to retire his second dog, a yellow lab named Jensen, after he developed hip dysplasia. Jensen will now enjoy the easy life of a much-loved pet, with Randy giving him the best of care. "He took care of me for years," he said. "And now I will take care of him until the last wag."

He anticipates it will take about six months to form the solid partnership with Solomon that he enjoyed with his two previous dogs. But there's one thing that the once skeptical Randy knows for sure, "I couldn't imagine my life without him."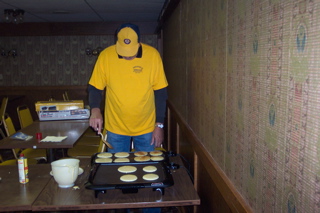 SHEFFIELD LIONS HUNTER'S BREAKFAST FUNDRAISER -- OCT. 2009
SHEFFIELD LIONS HUNTER'S BREAKFAST FUNDRAISER -- OCT. 2009
sHEFFIELD LIONS HUNTER'S BREAKFAST FUNDRAISER -- OCT. 2009
SHEFFIELD LIONS HUNTER'S BREAKFAST FUNDRAISER -- OCT. 2009
LIONS DISTRICT 9NC CONVENTION IN HAMPTON, IA -- MARCH, 2010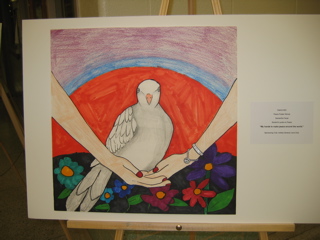 LIONS DISTRICT 9NC CONVENTION IN HAMPTON, IA -- MARCH, 2010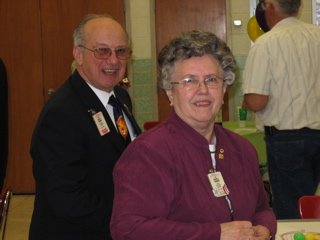 LIONS DISTRICT 9NC CONVENTION IN HAMPTON, IA -- MARCH, 2010
Sheffield Lions members: PDG/Club Secretary --David Dannen (l) and Lion Judy Dannen (r) enjoying the District 9NC Convention.




LIONS DISTRICT 9NC CONVENTION IN HAMPTON, IA -- MARCH, 2010
Lion Elaine Schriver - District 9NC Peace Poster Chair introducing 12-year old Samantha F., sponsored by the Ackley-Geneva Lions Club, as the District winner of the Peace Poster Contest.







Picture of Sheffield Lions Club taken at Club Meeting 05/06/2010


The picture above shows the Sheffield Lions in attendance at the Club's meeting on 05/06/2010 in Sheffield, IA.

The Sheffield Lions members in attendance included:
Front row (L-R): PDG Lion David (Club Sec.), Lion Doug, Lion Judy, Lion Jack, Lion Roger, Lion Larry, Lion Delmar
Second row (L-R): Lion Elaine, Lion Darwin, Lion Roger, Lion Dacia, Lion Scott, Lion Cliff
Third row: PDG Lion Gary

Lions not pictured: Lion Lynn, Lion Dale B., Lion Richard, Lion Ann, Lion William, Lion Dale H., Lion Chuck, Lion Fred, Lion Nathan, Lion Darrin, and Lion John


All devoted to the Lions Clubs International Motto: "WE SERVE"





























































What Lionism is NOT... (stolen from California Lions District 4-C1)
What Lionism is NOT...

WE ARE NOT A POLITICAL ORGANIZATION, yet among our members will be found leaders of all political parties and factions.

WE ARE NOT A SOCIAL CLUB, yet we are directed to take an active interest in the social welfare of our various communities.

WE ARE NOT A YOUTH ORGANIZATION, yet we participate in so many youth programs and projects in this nation and abroad that it is hard to determine if the dog is wagging the tail or the tail is wagging the dog.

WE ARE NOT A WELFARE ORGANIZATION, yet over the years, in good times and bad, countless thousands of less fortunate people have been the recipients of the generosity of Lions.

WE ARE NOT A SPORTS OR RECREATIONAL AGENCY, yet thousands of boys have been thrilled with Little League programs and many other activities built around the training of the minds and bodies of our youth, both boys and girls.

WE ARE NOT A RELIGIOUS BODY, yet the precepts we live by are familiar to the doctrines of the world's spiritual bodies.

WE ARE NOT A MEDICAL OR HEALTH ORGANIZATION, yet our clubs have performed miracles in this wide panorama of community and individual service.

WE ARE NOT AN EDUCATIONAL FOUNDATION, yet thousands of students are today in schools built by Lions.

WE ARE NOT A UNITED NATIONS, yet we are an instrument of peace. Lionism, born while the world was aflame, has grown strong under the nourishment of freedom and liberty.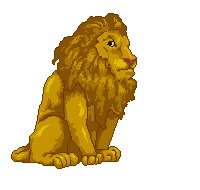 LIONS CLUB MEMBERS ALWAYS EXTEND A WELCOMING PAW TO THOSE IN NEED! BE PROUD, but be kind! BE a LION!!
The SHEFFIELD LIONS THANK YOU FOR VISITING OUR WEB SITE.